Another busy week for our JCU Gladiators as they continue to fight for victories against their many competitors. Although we had some difficult losses we also had some incredible wins that we should be proud of. Volleyball, Basketball & Men's Soccer continue to prove their determination with multiple victories and Women's soccer and 5on5 are giving everything they have to pull through and dominate. Let's give it up for our Gladiators!
Another tough match for our Men's 5on5 Soccer team that took the field on Monday night, February 21, against CAT. The weather was not ideal conditions which did not help out Gladiators while taking on the competition.
Coach Manuel Franceschi has faith in his team even with the latest losses.
With this team it may be difficult, but definitely not impossible. They are a great group of players and I have hope that they will succeed, it won't be easy but I think we can do it.
MVP – Gabriele Lanzafame
Next Game:
UNT vs JCU | Thursday, March 3 | 8:30 pm | Via Cristoforo Colombo, 200
It was a strong start to the week from the Gladiators, defeating BMV on Monday. The match started with a loss for JCU but they were able to pull through with the W. MVP, Luke Berg, who showed true athleticism and power with multiple strikes and dives to keep his team from going under.
Coach, Stefano Papari, is extremely happy with how his team has been playing this season.
The way the team reacts to difficult opponents is incredible. Not only do we have great individual players but we have players that know when to come together and act like a great team.
Game 2 of the week ended in another victory for JCU. The match was more even and Link University brought their A-game. Although there were mistakes made by the Gladiators, they pulled together and fought to win 1-2.
MVP –Luke Berg & Mara Peruzzi
Next Game:
JCU vs UCB | Tuesday, March 1 | 8:15 pm | Via Nicola Fabrizi, 7
It was a tough loss for the Men's soccer team on Thursday losing to UCB 2-1. JCU entered the field determined and ready to play. It was an even game most of the match but with emotions running high things started to get out of control. Although the loss is disappointing, we know they will be ready to redeem themselves in the following matches.
Next Game:
JCU vs UER | Wednesday, March 2 | 9:15 pm | Via Vitellia, 50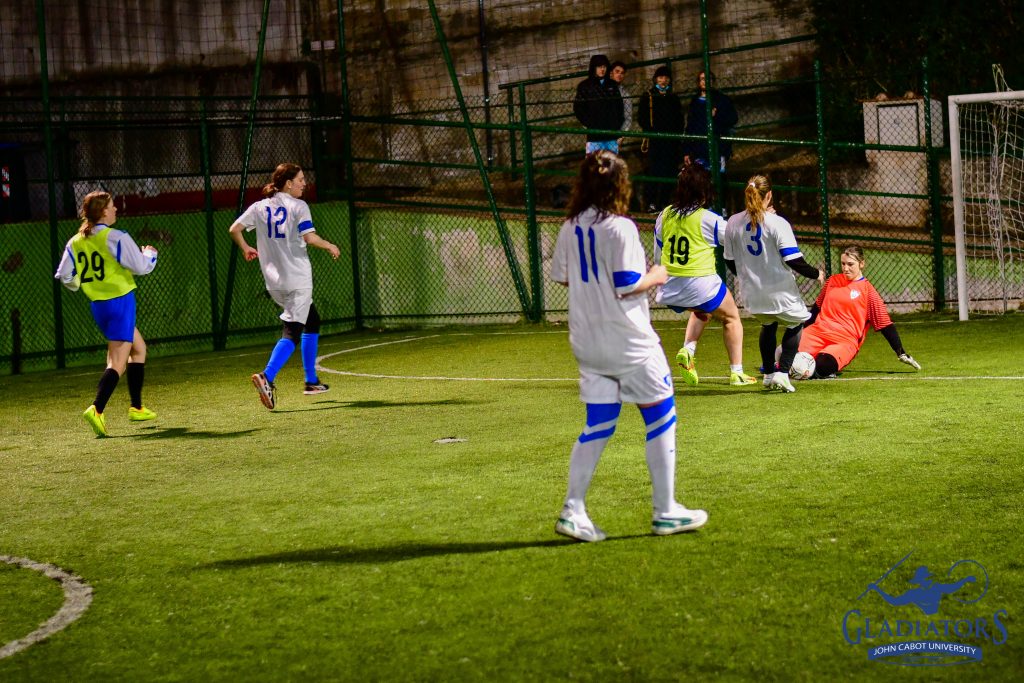 The weather was not on our side on Monday for the Women's soccer. With only 5 players, there were no subs so each player pushed themselves to their limits both mentally and physically.
Next Game:
LCU vs SAP | Monday, February 28 | 8:00 pm | Trastevere Stadium
JCU Gladiators had their first real challenge of the season against MOT on Monday. Despite the low scoring, the Gladiators pulled through for their fifth consecutive win. Thursday night against LIB, JCU once again won proving they are an exceptional team.
Coach, Jose Cano, was impressed, once again, with his team.

We scored a season low 8 points in the 2nd quarter on Monday. At halftime we regrouped, refocused, and we slowed down and controlled the pace the rest of the way with some huge baskets by Noah down the stretch we were able to bring it home. I am so impressed with how this team plays not only as individual players, but as a whole.
The Gladiators also had a tournament on Friday, where they dominated the competition and won each game.
JCU vs. SAP 12-4
JCU vs, UFI 12-9
JCU vs. Europea 10-5
JCU vs. Educatt 12-4
MVP –Noah Salah
Next Game:
VAL vs JCU | Monday, February 28 | 9:30 pm | Via Adriatico, 13677