A very busy Wednesday night for most of our varsity teams who took the field for their respective games of the different tournaments. Between victories, ties, and losses, last night was definitely intense and full of action!
MEN'S SOCCER
JCU Men's Soccer team came down against Erasmus in Campus (EIC) at Trastevere Stadium last night in a game that we all hoped could have been worth 3 precious season points to our team who still sits in sixth position together with LUISS.
However, our Gladiators were able to catch one season point by tying the game at the very last minute thanks to a penalty kick realized by captain Ortega and obtained by Donnini.
"The opposing team was clearly within our reach, but unfortunately, too many technical and tactical mistakes from our side were about to fool us," Coach Concari commented.
The first half saw JCU taking the lead, 1-0 thanks to Ortega's assist, which led EIC to score an own goal. In the second half, however, an easy foul committed by JCU striker Davoli allowed EIC to tie and then to gain advantage on a counterattack.
The game ended 2-2 but with a little bit of regret.
Now keep working hard, Gladiators because you will have your first international test in one month at the ACG International Sports Festival in Athens, and we want you to be ready!
MVP – Tommaso Cattaneo
MEN'S 5on5 SOCCER
JCU Men's 5on5 Soccer team faced The University of Foro Italico (UFI), a tough opponent who currently stands in second place in the season ranking.
UFI defeated JCU, 6-3, but our Gladiators fought hard and tried their best against an opponent who was definitely hard to take down.
UFI led the game from the beginning, but JCU didn't let the opponents escape too far. JCU forward Palazzi and defender Solano scored the two goals that closed the first half with a result of 4-2 for UFI.
In the second half, JCU entered back the field with even more focus and determination, and midfielder Royuela immediately scored the third goal.
Fernando Royuela's goal
UFI vs JCU
February 20, 2019
On a 4-3 situation, Royuela had a few more nice opportunities to score, but luck wasn't on our side, and the ball went off the opponent's goal post a few times.
Unfortunately, tiredness took over our Gladiators at the end, and UFI scored again, closing the game 6-3.
"I can't reprimand anything to my team," Coach Franceschi pointed out. "They all played well, but due to some absences, we are always numbered, and I cannot make any change to let them rest. It is normal that when the pace of the game becomes more dynamic, we start suffering tiredness more, and we lose control of the game."
We are proud of you, Gladiators for the passion and commitment you always demonstrate no matter what! Keep working hard, and satisfaction will follow soon.
MVP – Fernando Royuela
WOMEN'S 5on5 SOCCER
A one-way game for our Women's Soccer Team who swept Link Campus Erasmus (LCE), 16-0.
JCU blatantly dominated the game from the very beginning against a team, which was clearly not ready but still tried their best.
"There was no contest in this game, but we played with respect for the opponents and scored as we had the chance," Coach Farina said. "We take last-night game as good practice and test. Now we need to focus and be ready for next-week derby against The American University of Rome."
Then Farina added, "I don't feel like giving the MVP to any specific player, this time. They all deserved it."
Good job, ladies!
COED VOLLEYBALL
The Oroverde tournament keeps our Coed Volleyball Team really busy with many games every week. Last night, JCU faced ASD Aurelio (ASM) but fell to the opponents, 0-3 [20-25; 13-25; 20-25].
"The team played a little bit better compared to the previous-night game, but we suffered many important absences in this game that could have definitely helped the team," Coach Papari commented.
"We find a very hard time to take off and impose our game on the opponents. We always have to run after them. But the important thing is to not be discouraged and keep working hard in order to improve. It is not easy, but we have to find a way to come out of this not-so-lucky period," Papari concluded.
And we believe in you, Gladiators! So don't give up and work hard!
MVP – Flaminia Giacomi
CHEERLEADING
A special thanks goes then to our incredible Cheerleading Team who, last night, performed a spectacular coreography at the Volleyball game. We love to see your enthusiasm, passion, and great improvements!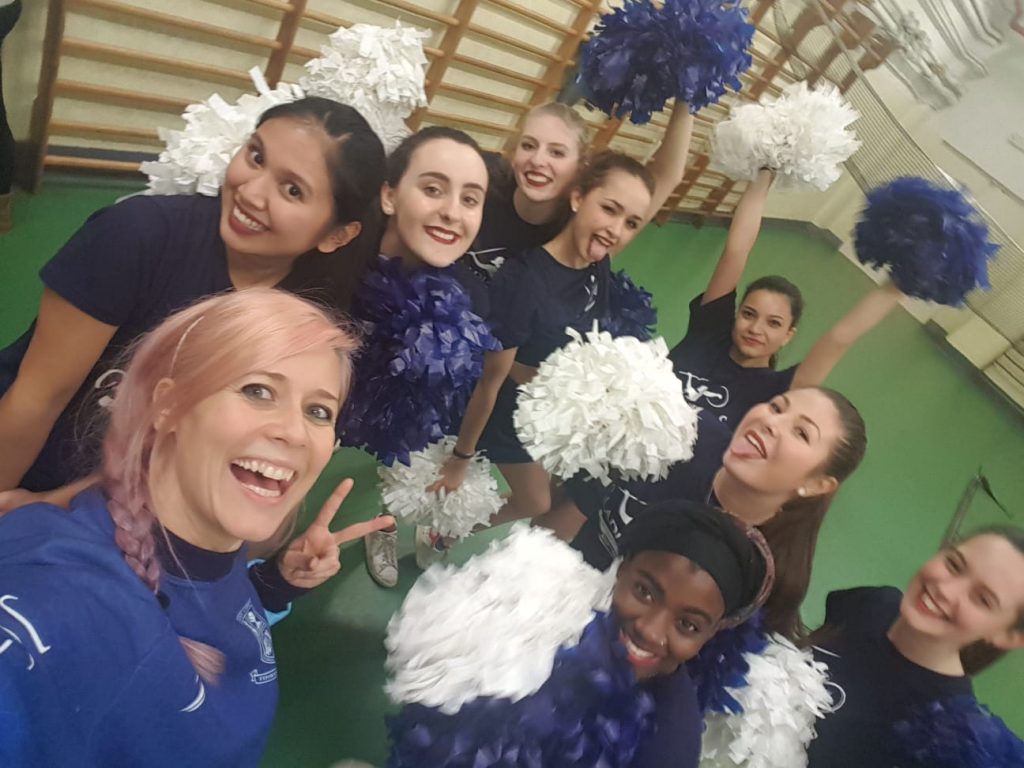 Congratulations to you and your coach Elena Gregori!