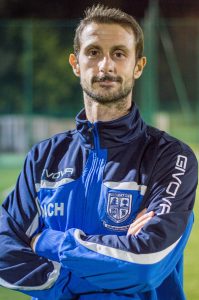 Nationality

Italy

Current Team

John Cabot University – Men's Soccer, JCU
Biography
Name: Riccardo Concari
Hometown: Rome, Italy
Team Coach: Men's Soccer
Degree: Master's Degree in Sports Science
Favorite Quote/Motto: Never Stop Believing!
…More about Coach Riccardo
1. What do you like the most about coaching at JCU?
I really like the enthusiasm and team spirit that players from different countries are able to create among them, even with those who stay only for one semester
2. What is the biggest challenge you have ever encountered while coaching at JCU?
My biggest challenge is that of making players understand that without continuity and commitment during practice is hard to obtain important results.
3. What do you expect in your players? What is the most important characteristic they should have?
I expect my players to prioritize the team's interests over their individual ones. The most important characteristic my players should have is the respect for the team, the opponents, and themselves.