On Monday, February 25th, the second-round challege of the Universities of Rome Championship took place at Sapienza Sport. Five teams battled on the field, trying to earn precious points that would allow them to go up in the ranking and qualify for the Finals.
These were the teams who participated:
John Cabot University (JCU)
American University of Rome (AUR)
University of Foro Italico (UFI)
Tor Vergata University (TVG)
UniCusano University (CUS)
All the teams fought hard and gave their best in those 10-minute games in order to try to win the BK3 second-round challenge.
First game saw JCU earning a 10-6 victory over AUR. Our Gladiators played really well and carried out an excellent defense, especially thanks to JCU players Audley and Mobley.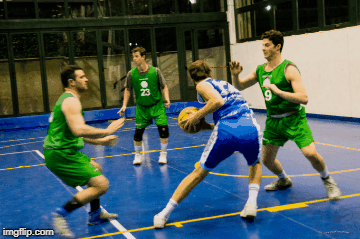 "We didn't shoot much, but we were able to exploit well all the opportunities we had to score," coach Serraino commented.
JCU played its second game against UFI, the top team in the league. Despite our Gladiators' efforts, UFI took home the victory, 24-10. Our Gladiators started off strong and stood up to UFI thanks to the good play moves of Kreitem, Lacerda, and Morrisroe, but it wasn't enough to defeat the opposing team.
"The advantage of UFI is that they know how to move on the court. Our mistake here was that of focusing too much on shooting rather than defend. We should have measured our defensive tactics in a different way," coach Serraino pointed out.
The third game of the night was against CUS. After the previous defeat, our Gladiators reacted and came back to the field really focused, bringing down CUS, 15-7. The opposing team tried in any way to block JCU by displaying an extremely pressing defense, but our Gladiators were still able to find the right solution to score.
Coach Serraino commented about the third game, "I like how we played this game. Wilfred and Luke did a great job in defense. CUS also played well and were very tough. They had a solid defense, too, but it was not really organized, and that gave us the chance to take advantage of their inattention and score."
JCU against TVG was the last game that our Gladiators had to face. A tough game that saw JCU winning 15-11 over a very combative team.
TVG had a very pressing defence and played a more physical game, but JCU was able to respond well to their tactics and score. Our Gladiators played an amazing game both on the offensive and defensive side, also thanks to Mobley's blocks.
Here's a brief recap of the results from last-night BK3 challenge:
JCU vs AUR 6-10
JCU vs UFI 10-24
JCU vs CUS 15-7
JCU vs TVG 15-11
Overall, JCU won 3 out of 4 games! Congratulations, Gladiators!
MVP – Luke Morrisroe