What an incredible Season all uphill for our JCU Women's 5on5 Soccer team who conquered a memorable achievement last night, winning their 3rd Title in the Universities of Rome Championship.
Since the beginning of the Season, our lady Gladiators never stopped to impress. They started a little bit more quietly in the first part, but then went wild in the second part, giving proof of all their talent, determination, and teamwork spirit.
The Final game that JCU had to face last night was not easy at all, on paper. The University of Foro Italico (UFI) was, indeed, the top team in the league, and it won the Championship Title last year right against our Lady Gladiators.
"Before the game began, I honestly have to say that I was really worried. UFI is a really strong team with valid players, but at the tip-off, I understood that everything was going to be just fine, and it was. " Mister Farina commented. "We basically dominated the game since the very beggining."
JCU gained the upper hand straight away, closing the first half 5-1 thanks to an amazing hat-trick by Moulton and two sensational goals by Keil.
#3 Shanna Keil's impressive goal
UFI fought back in every way to try and overturn the result, and at the beginning of the second half, the opponents were able to take advantage of the sudden drop of energy from JCU and scored back other two goals.
"On the 5-3 partial result, I got scared that they would tie because when you play 5on5, conceding two goals is something that can happen in a blink of an eye," Mister Farina continued.
However, this couldn't stop our Lady Gladiators who didn't back down for a second with Keil scoring the sixth goals of the match. JCU defeated UFI, 6-3, and our ladies became the undisputed queen of the tournament.
"We played an excellent game, committing very few mistakes," Mister Farina concluded. "All the girls had the chance to play, last night, and all of them gave their best and were fundamental to the final victory. I am really satisfied, and I want to thank all of the girls both from this and last semester who played with us because it is thanks to each one of them that we won back the Title this year."
Captain Diana Fantauzzi also commented, "What I am feeling now is something that goes beyond any words. At the beginning of the Season, I didn't expect that we could win, but then as the championsip went on, I started to realize that maybe we could win, and now we did! It's unbelievable! We improved a lot during these past months both on a techincal and tactical level even thanks to the new players who joined the team. We worked hard to get this Title, and we definitely deserved it."
Then Diana added, "Especially for me, this is my last semester, so I think that there's no better way than to finish off with this great win!"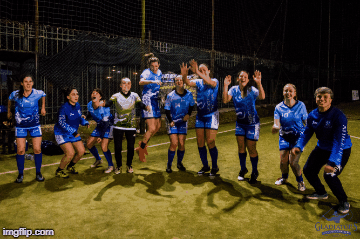 Congratulations, Lady Gladiators! And congratulations to the University of Foro Italico, as well. Last night was the best night ever, and we are so proud of you! You gifted us with best present ever! The trophy is finally back home for the third time…But now it doesn't stop here because we are definitely heading for the fourth in the next Season!
MEN'S 5on5 SOCCER TEAM
Right before the Women's 5on5 Soccer game, our Men's 5on5 Soccer team played the Finals for the 3rd/4th place against Polo Didattico Bambin Gesù (PDG).
Despite a very good performance from our Gladiators, PDG had a more lucky night and defeated JCU, 5-2.
In the first half, JCU approached the game well but couldn't find enough space to move the ball around and score. On the contrary, PDG was immediately able to take the game on its side and took the lead with two lucky goals.
"We got some bad rebounds that helped PDG to gain advantage over us. Due to those rebounds, our best defender Ricardo also got injured and had to abandon the game," Mister Franceschi pointed out.
Towards the end of the first half, JCU started to attack more, and our forward Giorgio Castellani found and centered the opposing goal post with an amazing goal.
Giorgio Castellani's goal
The first half ended 2-1 for PDG. In the second half, the opponents lined up in defense, making it harder for our Gladiators to score. However, JCU continued to press and was able to tie the result thanks to a powerful free-kick by our forward Tommaso Cattaneo.
"We played way better in the second half, but we were also very unlucky because we had many occasions to score, but we couldn't take them," Mister Franceschi added.
The last two PDG goals arrived on a fortuitous scenario, but they were enough to guarantee the victory and the 3rd place in the ranking to our opponents. Congratulations to them!
Our Gladiators gave the best on the field and deserved to win, but they had to settle for the 4th place.
"It is the second year in a row that we get the 4th place, but this doesn't have to stop us. It needs to be an incentive to keep working hard and improving in order to do better in the next Season," Mister Franceschi continued. "Unfortunately, we had a lot of ups and downs this Season, and luck wasn't really on our side in many circumstances. We had many absences and injured players, and we couldn't express all of our potential. We probably lacked that drive that would have helped us to go that extra mile. But what I like about this team is that despite the little issues that there have been, they were always able to stick together, and this is what makes the difference in the long run."
Then, he concluded "I hope that this might be only the first step to do better in the future, and maybe next year, we will be finally able to bring home a trophy, as well."
Congrats anyway, Gladiators! And we are also confident enough that with your passion and commitment, you will gift us with wonderful surprises next Season. We believe in you!