On Thursday, April 26th, our Women's Futsal team played the Finals in the Universities of Rome Championship against the University of Foro Italico (UFI). Unfortunately, after winning two Titles in a row, our Lady Gladiators had to step back and left the opposing team steal the Title for this year.
Our ladies gave everything they had, playing with their hearts and proving to be an extremely cohesive team. A few errors during the game didn't allow us to get the Gold, but your 2nd place is still worth more than any gold because with your passion for the sport, love for JCU jersey, and commitment, you showed everyone what it actually means to play in a sports team and carry high our Gladiator spirit! Well done!
Overall, it was a good and well-balanced match. The first part of the game saw JCU dominating the scene with Maria Martynovych scoring an amazing goal. Despite the numerous attempts to stop the opponents, the latter found a breach and scored back, ending the first half of the match in a draw. The second half started immediately with UFI pushing aggressively towards our side of the field and scoring the second goal. Our ladies, however, reacted and had many missing attempts to tie the result, but it wasn't enough to distract the opposing team who won the Finals 1-2.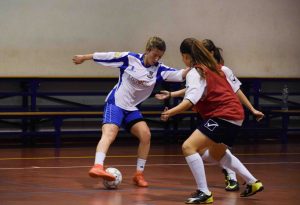 Despite JCU wasn't able to win the Title this time, all of our players never gave up until the very last minute. So congratulations, ladies! You have been great no matter the actual the result. We know that there might be a little bit of regret for a Title that could have been yours for the third time in a row, but you still got a well-deserved 2nd place, which is still the proof that you are a valid team. It is ok to lose; it happens, but it is exactly from failure that you rise up again and come back stronger than ever for next Season!
JCU Athletics is very proud of you, your passion, and commitment! So thank you! Thank you for being such wonderful and strong ladies and for always representing JCU at its best.
Thank you to the coach, Paolo Farina for the good work that you always put up with the girls!
Thanks to our study abroad students Sarah Castellano, Taylor Greene and Alexandra Klemer for playing with us this semester and fitting in like you have always been part of our team. Hope to see you soon someday!
Thank you, Maria Martynovych, Nicole Luvisotti, Claudia Calselli, Valeria Muzzin, Diana Fantauzzi, Viviana Colagrossi, and Maria Vittoria Albezzano for serving our team in the best as possible with commitment, love, and enthusiasm for all these years.