The Athletics Department is excited to welcome all the new Fall 2020 Gladiators and meet again the students who are already part of our amazing community at John Cabot University. It is important for us at Athletics to underline and give credit to the terrific work that the entire JCU community has done and continues doing in order to guarantee the safety of all students and staff. For this reason, we are happy to invite all Gladiators to participate in the different sports activities offered this semester.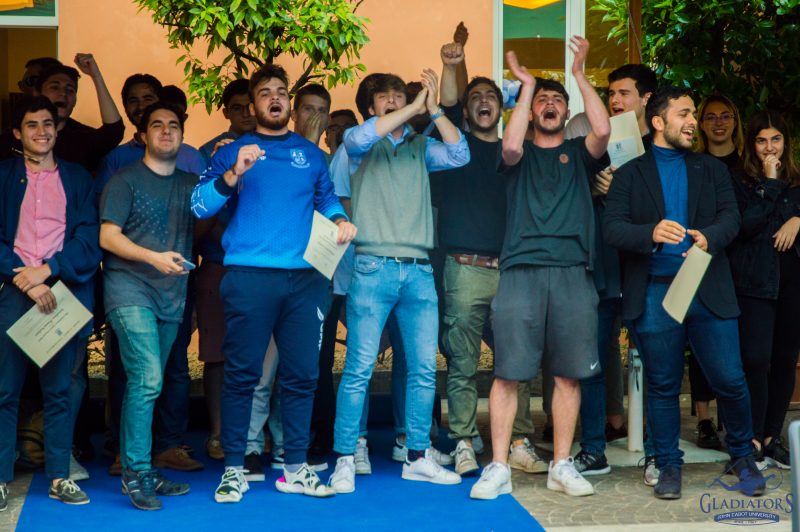 Being a JCU Gladiator has many meanings, but most importantly, it means being able to always find new ways to overcome difficulties and create new opportunities even in hard times. The pandemic has presented us with a challenge that we, as Gladiators, accepted fiercely in order to keep doing our sports activities, following all the rules and limitations given by the safety policy. It was not an easy task to accomplish, but we made it because JCU Gladiators are unstoppable even in pandemic times. Our Fitness Center is now officially open, and all students, staff, and faculty members are more than welcome to reserve a spot and enjoy a great workout at the gym.
Click Here to sign up for your next workout.
Please, remember to always bring a mask, a pair of clean gym shoes, and JCU ID with you. In order to respect the safety policy, the Athletics Dpt. team members will be ready to help you out at the entrance of the gym and explain you the few steps you need to take to workout safely.
Moreover, we are more than happy to invite you to participate in our outdoor fitness activities, which include Yoga, Kick Boxing, HIIT, Boot-camp, and Running. Fitness classes are an important part of our department. For this reason, we found a way to solve the limitations of the small space of our classroom at the gym, which would have not been safe to use for a fitness class. We are so lucky to live in such a beautiful and warm city which allows us to do physical activities along the Tiber or in a great park. Click Here to get all the information about the fitness classes and to sign up.
If you're not able to physically attend our fitness classes or can't reach the gym, don't panic! JCU Gladiators are active online and offer virtual fitness sessions, which also includes Cheerdance! You really don't want to miss any of them, so find the schedule, sign up Here to get the Zoom meeting link, and save the dates.
Don't worry, we didn't forget about Intramural tournaments. As we said, JCU Gladiators are unstoppable!
Do you accept the challenge? Sign up Here to join our virtual and live intramurals:
Virtual FIFA20 on Zoom – October 9th (check out last edition here)
Virtual CHESS on Zoom – October 9th (check out last edition here)
Tennis Intramural Tournament at De Vialar Tennis Club – October 23rd (check out last tournament article here)
Table Tennis Intramural Tournament at Guarini Campus – November 20th link (click here to find out the first tournament blog post)
Last but not least, don't forget our Sports Trips! Although we had to rethink all our activities, we could not get rid of our most rewarding and fun experiences. Therefore, we invite all Gladiators to take part in our one-day sports trips happening this semester: click here to sign up!
Circeo Hiking Day – October 7th
Nemi Lake Hiking – October 17th
Abruzzo Hiking, Celano – October 24th

Remember that all sports trips have limited spots, so if you're interested, we strongly recommend you to sign up as soon as you can. Also, a physical examination is required for all Gladiators who want to join the fitness center and take part in all our sports activities.
JCU Gladiators have officially accepted the Fall 2020 challenge: are you ready to become a real Gladiator?