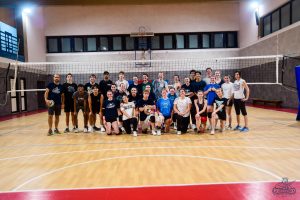 JCU Coed Volleyball Team was created in 2013, year in which the team also began competing in the Universities of Rome Championship.
In 2013, our Gladiators won the first Tournament against Europea di Roma, and Mateo Micucci, JCU outside hitter/wing spiker was awarded Best Player of the match.
Although, JCU has never won a first place again in the following years, our team has always been able to get on the podium by ranking second or third.
In 2016, Roberta Falvo, JCU setter, was awarded Best Player of the tournament.
Below, you can find the records of the winners year by year
2013 – JOHN CABOT UNIVERSITY
2014 – EUROPEA DI ROMA
2015 – LINK CAMPUS
2016 – FORO ITALICO
2017 – FORO ITALICO
2018 – FORO ITALICO
Click here if you want to find all details about the previous volleyball seasons
Coed Volleyball
| Pos | Club | Pts | P | W | L | PW | PL | Ratio |
| --- | --- | --- | --- | --- | --- | --- | --- | --- |
| 1 | Foro Italico | 9 | 3 | 3 | 0 | 8 | 1 | 8.000 |
| 2 | Roma 3 | 6 | 3 | 2 | 1 | 6 | 3 | 2.000 |
| 3 | Cattolica | 3 | 2 | 1 | 1 | 2 | 4 | 0.500 |
| 3 | JCU | 3 | 3 | 1 | 2 | 4 | 5 | 0.800 |
| 3 | Link Campus University | 3 | 3 | 1 | 2 | 3 | 6 | 0.500 |
| 3 | Lumsa | 3 | 2 | 1 | 1 | 3 | 3 | 1.000 |
| 3 | Università Campus Biomedico | 3 | 2 | 1 | 1 | 4 | 2 | 2.000 |
| 8 | La Sapienza | 0 | 2 | 0 | 2 | 0 | 6 | 0.000 |