First week of classes at JCU also means first week of tryouts for our Athletics varsity teams.
This Fall, we had a large number of students who signed up for our teams, the largest number so far with Basketball and Volleyball topping the ranking.
At a first look, the new Gladiators seemed very enthusiast, and most of them proved to have really good athletics skills in their respective sport.
BASKETBALL
Many new students showed up for the first two appointments of our Basketball tryouts. 28 students who battled on the court to try and earn a spot on the team, and each one of them gave their best.
The first week of tryouts mainly focused on the students' technical skills and general athletics conditions.
"In the first part, I wanted to test how the players could perform the basic but fundamental moves of basketball with some exercises who helped me understand their throwing, shooting, and dribbling skills," coach Francesco Serraino explained. "We went on by executing some specific offensive exercises, also playing one-vs-one short games, and then we finished off with some 3-vs-3 games."
"I saw some very good players in this first week, and I think that we could really create a great team this semester. I hope to be able to create a cohesive team to play an excellent Season. It would also be great to have the chance to play again in an international tournament like we did last year in Barcelona," coach Serraino concluded.
Michela Ciulli, the only female player on the team also spent a few words on her first impressions about the new students, "I saw very energetic and enthusiast players, and they already demonstrated a great team spirit. In the 3-vs-3 games, they all had the chance to show their talent and competitiveness."
And we also believe that this is the right start to create an amazing team that can give us great satisfaction in the new Season.
CHEERLEADING
The first week of our Cheerleading tryouts had a boom of sign ups with 16 students who showed up, hoping to earn a spot on the team.
Young and talented girls who, together with our current cheerleaders, will have the fundamental task to spread our Gladiators spirit within and outside JCU community by performing and supporting our teams. But this semester, our cheerleaders might also have the chance to shine even more by competing in an international tournament for the first time ever. For this reason, we trust in our amazing coach Elena Gregori to create a wonderful and competitive team.
In the first week, coach Gregori tested the individual level and skills of each student in order to evaluate better their potential. "All the girls who showed up at the tryouts proved to have great enthusiasm and willingness to learn, each with different abilities. I believe that they will give me the chance to create a cohesive group and enhance their respective skills, increasing the technical level of the team," coach Gregori observed.
Caroline Liquit, one of our beloved and current cheerleaders also commented, "I am so happy and satisfied about this first week of tryouts. There were many new cheerleaders who showed off their skills and enthusiasm, and this makes the tryouts week exciting and challenging. Also, we are excited because this year, we might go to Croatia and compete internationally, and the coach is really doing her best to create a stronger team. I am also happy about my improvements this summer which make me super prepared for this year!"
And we are really excited to see what's next!
COED VOLLEYBALL
Our Coed Volleyball team also had 25 new students who participated in the first week of tryouts, and they all immediately made a remarkable impression on our coach Stefano Papari.
"Most of them had very good volleyball skills, and they could move extremely well on the court. Of course, there is always a lot to learn, but at a first look, I must say that I am really faithful. I saw good players also on a personal level with good interactions among them, and this is a fundamental element to create an incredible teamwork spirit," coach Papari remarked.
The first part of the tryouts focused more on a few technical exercises, while in the second part, the students had the chance to show off their abilities in some short games.
"In these games, I immediately sensed some sort of cohesiveness while playing. The new players seemed all very excited, and I have the feeling that this could be a great semester where we can earn some satisfaction and also have fun," Flaminia Giacomi, Captain of the Volleyball team added.
And we can't wait to see more action in next-week tryouts and find out who will officially make it to the team!
MEN'S SOCCER
Many new students also showed up for our Men's Soccer tryouts. In the first week, our coaches Riccardo Concari and Ion Marian tested the players' technical skills and general athletics abilities with different exercises in order to evaluate the overall conditions and level of the new and returning Gladiators.
"As a first week, I saw impressive commitment from all the new players who gave their best on the field. I definitely had a positive impression, but I think it's too soon to evaluate effectively their abilities. Let's wait for next week," coach Concari commented.
There were about 20 new students who showed off their soccer skills, attempting to earn a spot on the team.
And we can't wait to see what next week has in store for us and who will officially become a Gladiator!
MEN'S 5vs5 SOCCER
A good number of students also signed up for our Men's 5vs5 Soccer tryouts, and some of them immediately made a good impression on our coach Manuel Franceschi.
"I am happy with this first week of tryouts. I saw some good players, and they soon seemed to get along with our current team players," coach Franceschi pointed out.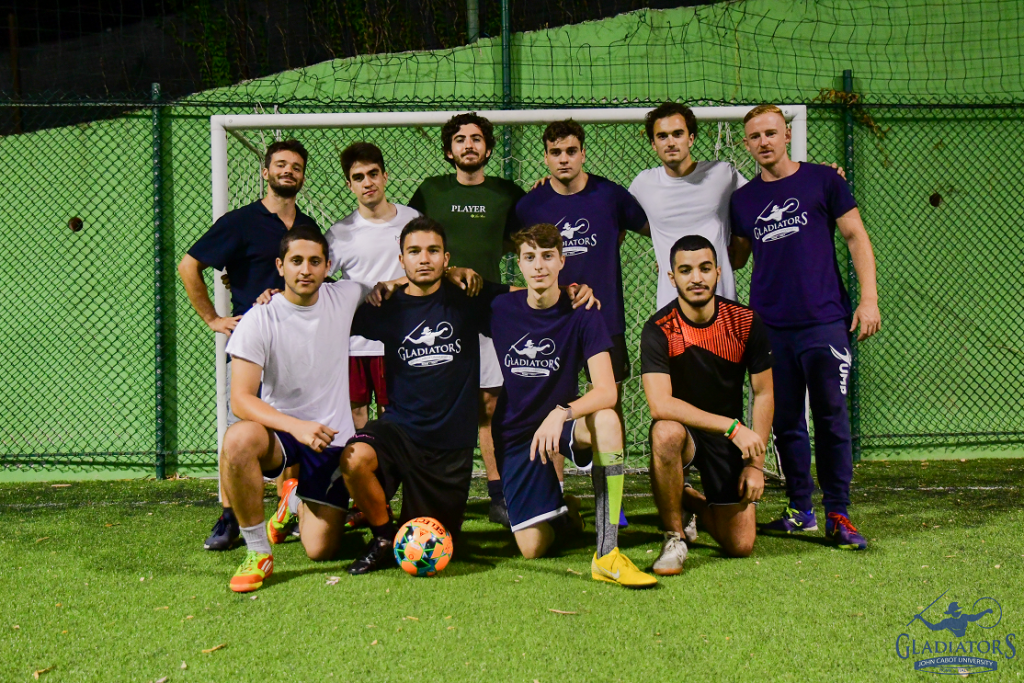 The first week of tryouts focused more on the technical and possession drills with a final training game in order to test the skills of the individual players.
Our current player Andrea Palazzi also expressed his opinion about this first week, "I think these new players have good technical skills, and they are also very positive people, which is fundamental to create a great teamwork spirit."
And we are confident enough that you will play an amazing Season this year!
WOMEN'S 5vs5 SOCCER
Similar to the other teams, our Women's 5vs5 Soccer team had a great first week of tryouts, with several new students trying out to become a Lady Gladiator.
In this first week, the coach Paolo Farina tested the girls with different exercises in order to evaluate their level and soccer abilities.
"At a first look, I am really satisfied," coach Farina commented. "These new players all had some sort of soccer experience before, and they know how to play. I really hope to create a strong and competitive team for next Season, also because we are going to participate in an additional tournament."
Our Women's 5vs5 Soccer team needs to defend the Championship Title this year, so we really need good players to try and win our 4th Title, and the first impression looks very promising.
"The first week of tryouts was fun! The new girls were all very excited and played well. It seemed like we already knew each other. I'm confident that this can become a string team, and I can't wait to play our first game," our Captain of the team Diana Fantauzzi also added.
And we have a lot of faith in our Women's 5vs5 Soccer team because we know that these Lady Gladiators can always gift us with great satisfaction.
It won't be easy for the coaches to choose this semester because everyone probably deserves a spot on the teams. But we still have another entire week, and we can't wait to see more action until the final verdict and roster for new Season is made! Stay tuned!
Good luck again for next week, and #GOGLADIATORS!