Last night, our Gladiators Coed Volleyball team had a very tough match against Oroverde team, and they lost 3-0.
Despite the loss, however, our Gladiators did anything they could to stand up to the Oroverde team, always closing all the three sets with with very little scoring difference.

"It was a very hard game! We need to admit that the opposing team was really strong and valid, but our Gladiators did their job and played quite well," coach Stefano Papari said. "All of our team components tried to give their best despite all the ups and downs during the game. Of course, we also need to take into consideration the fact that our Gladiators have been playing together only for one month and a half now unlike the Oroverde team," Stefano added.
Besides the final result, our Gladiators were still able to walk out with their heads held high at the end of the game, showing sparkles of technical improvements both individually and as a group.
Game MVP recognition this week goes to Reed Jones, a JCU study abroad student who is progressively standing out thanks to his brilliant athletics skills and for his commitment and perseverance during the games as well as during the weekly training. Congratulations, Reed!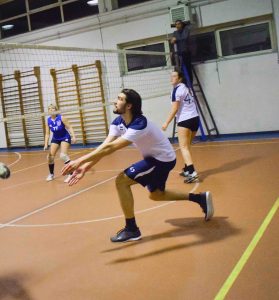 Good job, everyone! And keep working hard for this was just the warm up!
Get ready for next-week big appointment! On Monday, February 19th the Universities of Rome Championship Season begins, and we want you to be ready and steady!